At the Tile Emporium we are dedicated to the professional installation of high quality tiles. Our high quality Victorian tiles come in a range of colourful and striking decorative patterns. The Victorian tile is on trend, and they continue to bring a beautiful, vintage touch to home décor.
Many interior designers are using Victorian tiles to create lavish displays on walls and floors. The introduction of Victorian geometric patterned flooring is the perfect way to add class and grandeur to your home.
This stylish geometric patterned flooring first appeared in the Victorian era and made an appearance in many stately homes, historic buildings, churches and museums. The Victorian style has recently seen a re-emergence in popularity with home owners looking to add the stylish feature to their bathrooms, kitchens, paths and hallways. Victorian floor tiles are the perfect way to inject some charming character into your home.
If you are looking to add a quintessentially British flavour to your interior, then adding a feature floor using Victorian tiles couldn't be more apt. Whether you're restoring an old building or simply adding a feature to a modern home, Victorian tiles are a beautiful and versatile choice. Take a peek at our Victorian tile portfolio below for inspiration.
Victorian Tile Installation
The cost of installation can be considerably higher in comparison to fitting carpet or laminate, however the stunning visual effect of intricate geometric patterns cannot be beaten. Many Victorian geometric floors have survived well over 100 years of constant, everyday family use. The same definitely cannot be said for most modern floor covers, which makes our Victorian tiles a very worthwhile investment.
Due to the cost of the tiles it is advisable that you hire professional fitters to complete the job. As well as supplying Victorian tiles, we also offer highly professional fitting services to anyone who requires them. Our team is comprised of exceptional, experienced craftsmen, all of whom have a varied and extensive portfolio of work. Many Victorian patterns contain over 100 different pieces per square metre and come with intricate boundaries that must be incorporated into the design. Our high grade fitters make a perfect job of matching up intricate designs every time.
For all of your home interior and exterior renovations, we also offer a range of other services and materials to customers throughout Sussex, Surrey and Kent.
Our Free Survey and Consultation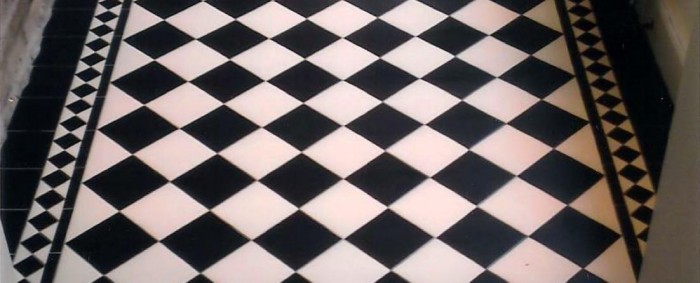 We offer a free survey and consultation to assess the suitability of installation of our Victorian tiles. We'll also leave you with a quote and all the information you may need for your project.
Why Choose Us
We are a family-run tile business in Reigate, Surrey with a whole team of exceptional craftsman offering professional fitting services. We pride ourselves on our high quality products, exceptional workmanship and great customer service. We offer a huge range of quality tiles and we are dedicated to making your home look every bit as beautiful as you've dreamed about. There are no other high street retail shops offering the same quality products and fitting services as us at The Tile Emporium.
Get in Touch
For more information about our Victorian tile range and installation service get in touch with us today on 01737 223922. One of our friendly team is waiting for your call and will be happy to answer any queries you may have about our products and services. Or we'd love to see you in our showroom at 31A Bell Street, Reigate, Surrey, RH2 7AD. Our opening times are Monday to Saturday 9am – 5pm.
Alternatively, fill out the form at the bottom of this page and we'll get back to you as soon as we can.
Victorian tiling portfolio:
Use the form below to contact us for more information.