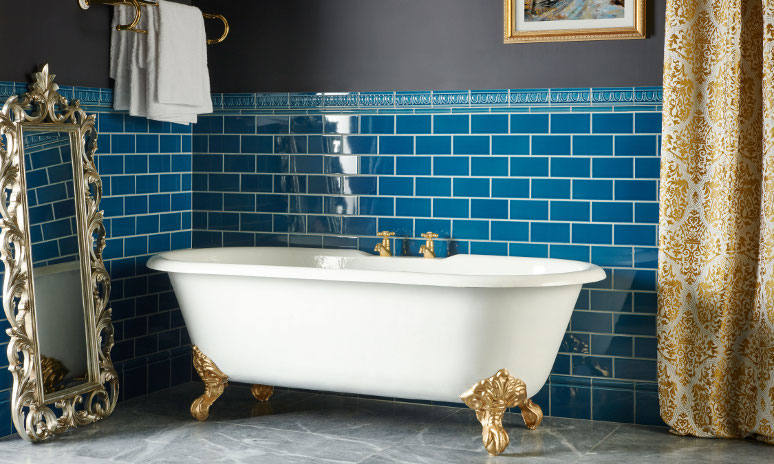 It's about time we looked at some of the outstanding bathroom interior design ideas that are currently doing the rounds, especially as a lot of the natural stone tiles that we supply contribute significantly to the style of a bathroom, whether it's something contemporary or a classic period design. Here are three wonderful bathroom interior design ideas that make the most of natural stone, from marble to mosaics.
The Subway Tile Design
I bet you never thought you'd take a subway-style tiling method and place it in your bathroom? It seems to work really well in this case however, with glistening rectangular, uniquely regimented tiles providing the backdrop to a beautiful marble bathtub, alongside wooden storage compartments and antique-style tabletops.
The Bathroom Fireplace
A bathroom fireplace doesn't only provide you with added warmth; it also acts as a wonderful interior design feature. This classic element works wonderfully with hexagonal mosaic tiles on the floor, alongside a classic bathtub with period features and lighting effects throughout.
The Contemporary/Vintage Crossover
Laminate wooden flooring, sleek windows and a rectangular shape consistent throughout the room are all associated with contemporary bathrooms; yet throwing in a stunning Romanesque marble bathtub and vintage appliances seems to work wonders. Natural lighting is supplied by large windowed balcony doors.