Christmas is on its way so you might be planning to treat yourself with brand new tiles for your bathroom or kitchen and have your home looking great in preparation for the big day.
If you find yourself in the market for some new tiles or feel you might struggle with the wide variety of textures, styles, themes and materials on offer, here's a few handy tips to consider before investing in your festive stone tiles.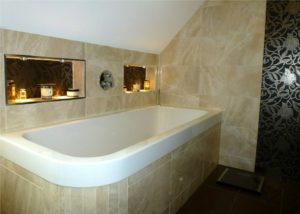 1. Consider the location of your tiles
Firstly, consider where the tiles are going to be placed and how their texture, colour and style will affect the look of the space. For example, lighter tiles would be ideal for a space that needs to look bigger due to its size and you might need a specific texture if your style preferences are particularly detailed.
Slate provides an excellent natural texture that works wonders for your bathroom, whilst the dark, sleek design of marble tiling can really work in a more contemporary kitchen space.
2. Consider the durability needed
It's also important to consider the durability of your tiles. Are they capable of lasting a considerably long time without getting damaged? Can they withstand cleaning products for the foreseeable future?
Ultimately, the life of a tile can be daunting depending on where it's situated but it's worth considering this important factor when purchasing nonetheless.
3. Think about the long-term
Finally, try and have a long term bathroom plan in mind when buying your tiles. How are your style preferences going to change in the next few years? What sort of bathroom appliances will you be investing in? It's a good idea to look at some kitchen and bathroom design ideas beforehand so that you can see where your new tiles are likely to lead you.
Don't forgot to visit the Stone Tile Emporium for an introduction into the wide range of tiling ideas we have to offer!